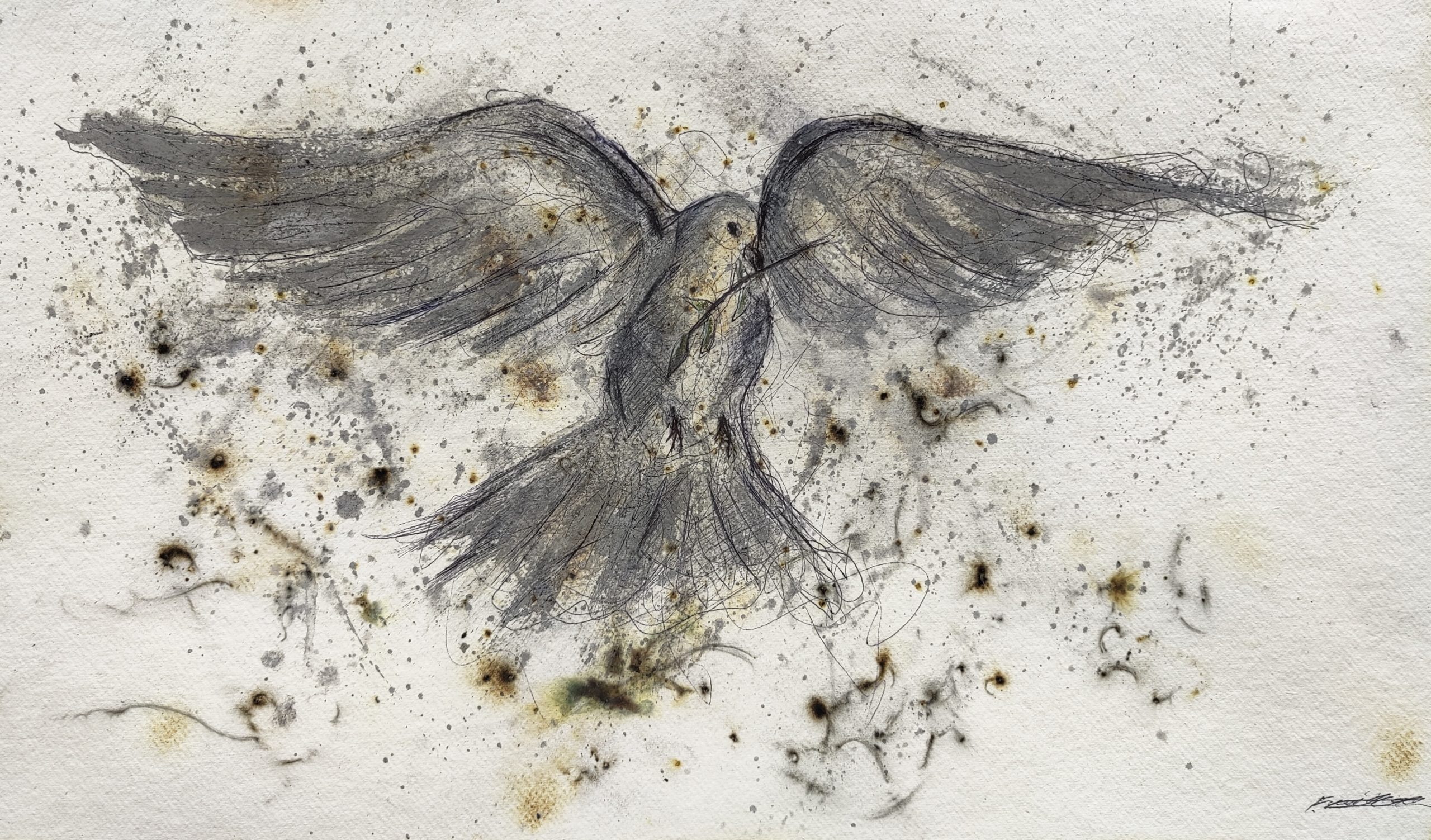 After Thought Art an exclusive Stockholm forum auction 2022
Exclusive artwork created with the world first crayons made of weapons to be auctioned at 2022 Stockholm Peace Forum on Peace and Development.  
A one-time edition art piece made with Humanium Metal, titled "After Thought" by Scottish contemporary artist Frank To, is set to be auctioned during 2022 Stockholm Forum on Peace and Development. Created specifically for the Forum, the painting (38cm x 61cm) is an homage to the dove of peace and was created with the world's first Humanium Metal soft colour pastels, paint and ink.  
The artist was inspired by Humanium Metal intrinsic transformative process, which is turning weapons into peace commodities, and by the theme of the event: "From a Human Security Crisis to an Environment of Peace". Against the backdrop of the Russian invasion of Ukraine and coinciding with the 50th anniversary of the United Nations Conference on the Human Environment, the Forum will indeed discuss long-term global challenges in the midst of the immediate security crisis.   
The art piece will be available for the auction with bidding hosted on the official Humanium Metal website, with the auction starting at 1500 USD and with the income generated to be re-invested into communities affected by gun violence.  
"After Thought" will be physically on display at the Stockholm Forum, at Münchenbryggeriet in Stockholm. Humanium Metal will be on site presenting the art piece on May 24 and will be delivering a spotlight presentation on the theme of transformation and on the global crisis of gun violence. Exclusively, a film showing the art piece in the making and the creation and creative usage of Humanium Metal pastels by Frank To will be showcased. Online participation to the event is open to all by registering to this link
The 2022 Stockholm Forum on Peace and Development will hold a series of sessions in a hybrid format centering on the theme of how to enable an environment of peace in the advent of growing and ongoing crises. The global crisis of gun violence threatens human rights and development, which are both central to human security. Gun violence threatens fundamental rights to life, the security of person, and equality, and diminishes investment in economies and increases reliance on illicit economies. Humanium Metal promotes human security by transforming illegal seized firearms into peaceful commodities and re-investing the income into communities hard hit by gun violence to break the cycle between gun violence and poverty.